China Study Center, University of Peshawar organized a One-day Hybrid Seminar titled "Decade of China-Pakistan Economic Corridor (CPEC)" on 22nd June 2023 at China Study Center, University of Peshawar Conference Hall at 10:00 am. The seminar was the first activity among the Five activities that China Study Center, University of Peshawar planned to celebrate the decade of CPEC.
The Seminar Started with the recitation of the Holy Quran.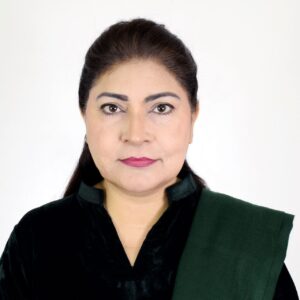 Prof. Dr. Kausar Takrim, Director China Study Center, University of Peshawar welcomed all distinguished speakers, faculty members, students, and scholars to the seminar. She said that China-Pakistan Economic Corridor is a framework of regional connectivity and CPEC will not only benefit China and Pakistan but will have a positive impact on Iran, Afghanistan, Central Asian Republic, and the region. She further said CPEC is a win-win model which will result in well connected, integrated region of shared destiny, harmony, and development.
Rear Admiral (R) Saleem Akhtar HI(M) talked about the CPEC and Challenges of Maritime Domain. He also talked about the Shipyard at Gwadar, and Energy projects under CPEC, and Maritime Security Challenges in Indian Ocean Region & Arabian Sea. Indian Ocean littoral trade constitutes only 20%, while 80% of trade is destined for outside the region. A large part of the world's cyberspace traffic is carried through undersea cables in IOR. He mentioned that the IOR Most politically troubled area around the world. Major powers deployed substantial military forces in IOR to safeguard interests. More than 5 trillion pieces of plastic floating in world oceans with 1 trillion in IOR. he added
Dr. Talat Shabbir, Director China-Pakistan Study Centre, Institute of Strategic Studies Islamabad (ISSI) said that CPEC is a mega project of connectivity, energy, and infrastructure. There is no doubt that CPEC has the potential to change the economic landscape of Pakistan. It can create millions of jobs in Pakistan, besides reviving our industry. If CPEC succeeds, it would not only help Pakistan to stabilize its economy but also provide benefits to the whole region. He suggests that Pakistan should need to be focused on the pace of work on CPEC projects. And Pakistan can learn a lot from China and Pakistan should benefit from the Chinese expertise to carry out all projects conceived under CPEC.
Dr. Farhat Asif, President, Institute of Peace and Diplomatic Studies, Islamabad. (IPDS) joined the seminar online. She emphasizes that The Belt and Road Initiative (BRI) and the China-Pakistan Economic Corridor (CPEC) have emerged as transformative platforms for economic growth and regional connectivity for Pakistan. She also highlighted the importance of public diplomacy in mitigating potential challenges and addressing misconceptions surrounding CPEC and BRI. By proactively engaging with different stakeholders, public diplomacy efforts have effectively communicated the benefits, addressed concerns, and ensured transparency, thereby creating an environment conducive to growth and cooperation.
Prof. Dr. Zahid Anwar, Ex-Pro Vice-Chancellor & Director, China Study Center, University of Peshawar talked about the "Contemporary Developments in Gwadar Deep Sea Port: Opportunities and Challenges". He said that Gwadar is geographically, economically, and strategically important deep sea port, it is near the strait of Hurmuz, Afghanistan, Central Asian Republics, and Xinjiang Uighur Autonomous region of the People's Republic of China. He talked about his visit to Gwadar and said that the visit to Gwadar Development Authority was helpful to understand the pace of current development of the port. The visit to Gwadar Port and the free zone along with Chinese experts was very informative. It showed a lot of developmental work. The visit to the headquarters of Gwadar Port Authority (GDA) was very useful and fruitful. The anti-CPEC propaganda is required to be countered systematically. Gwadar is a challenge and Gwadar is an opportunity and it is Pakistan`s national will that can transform this challenge into an opportunity that will boost its economy considerably.
At the end of the seminar Prof. Dr. Kausar Takrim Director China Study Center, University of Peshawar thanked the distinguished speakers, Rear Admiral (r) Saleem Akhtar, Dr. Talat Shabbir, and Prof. Dr. Zahid Anwar who participated in the seminar as a guest speaker. She also thanked Dr. Farhat Asif for her online participation in the seminar.
A large number of students, faculty members, scholars, and experts participated in the seminar.